September 2015 Community Journal Newsletter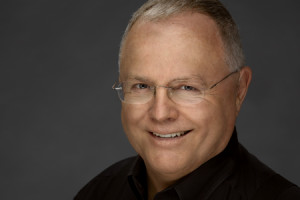 Tired of swimming upstream? Walk on water!
By William E. (Bill) Garber
Founder
Being a life-long weekly newspaper fan, of course The Week magazine is something of an inspiration to me.
I really admire how Felix Dennis came to create success for a weekly news magazine in the age of the Internet. He didn't swim upstream, he walked on the digital waters!
The paper was low grade. The stories were last week's news and borrowed from other publications, no less! The page count was thin even. And there was only the occasional ad.
These days The Week magazine offers a daily, first-of-the-morning email with the same subject line every day: 10 things you need to know today. I prefer that they were following The Economist, which charges $3.99 monthly for their morning email update, Espresso. But you can sign up for 10 things you need to know today for free here.
So when The Week began addressing The Future of Main Street I followed the series. Looking at the series so far, I like the scope of opportunities for people in communities where community newspapers call home.
Of course stories like these, especially with local touch points, make for compelling reading, which in turn makes for compelling subscriptions. And when was the last time your paper saw an increase in its subscription and cover price? Just asking …
If independent bookstores are thriving in the shadow of Amazon, and The Week is creating serious pricing power with about the same square inches of paper as a good many and not even the seriously thicker community newspapers, the future of community newspapers is looking increasingly promising.
And be sure to take note of What rural businesses are doing to survive – and thrive. Community newspapers are, for the most part, truly rural businesses, of course.
And from the big city, New York actually, is this interesting column by David Brooks, The New Romantics in the Computer Age.
"You shouldn't even ask, What jobs can I do that computers can't do? That's because they are getting good at so many disparate things. You should instead ask, What are the activities that we humans, driven by our deepest nature or by the realities of daily life, will simply insist be performed by other humans?"
And one of those jobs, curating the stories that you create and collect, makes not only your community but your community newspaper truly priceless.
---
Interlink Circulation provides annual Statement of Ownership report
The USPS Statement of Ownership, Management, and Circulation, also known as PS Form 3526, is required by the Post Office annually to show proof of continued eligibility for mailing under a Periodical Permit.
Interlink Circulation includes this report and can automatically fill in most of the required information. You can find the Statement of Ownership with the other reports in the Periodical Mail Delivery report category. If you have not printed this report from Interlink Circulation before, some setup is required first to ensure all parts of the form are complete and accurate.
To configure the 3526 form, open your Periodical publication in Interlink Circulation then:
From the File menu, select Configure List…
Select the Periodical Mail tab
Click the Contact Information… button
Select the Form 3526 tab
The first six sub-tabs shown provide space to enter contact information for the various areas on Form 3526. Each tab has room for one contact – additional contacts should be specified on a separate sheet and attached to the form when filing.
Additional required information can be specified under the Misc sub-tab, such as the number of annual issues published, the filing date for PS Form 3526, and the date it will be published in the paper.
It is helpful to have a blank copy of the form in front of you in order to correctly enter the proper information for each line on the form since they are referred to by line letter and number. A current copy of the form can be downloaded at http://about.usps.com/forms/ps3526.pdf.
The real magic happens under the Totals sub-tab. The second page of PS Form 3526 requires circulation statistics from the issue published nearest to date of filing, in addition to circulation statistics averaged across the previous 12 months of publication. Clicking the Estimate Values button will cause the program to automatically determine what the counts should be based on information it has available. If you like what you see, click the Use Estimates button to copy them into the form. You also have the ability to enter your own numbers, if needed.
The beginning date for year must be within a 12 month span, or the Totals sub-tab will not calculate and a window will pop up stating there is no data for the report. The Issue Date for Data must be a valid close issue date in Circulation.
It is important to note that circulation statistics are only available from parts of Interlink Circulation that have been actively and accurately used during the previous 12-month period. This means that non-mail delivery figures for racks, dealers and carriers will only be accurate if you have been using these parts of the program. If not, you can always enter your own values prior to printing the report. Note that C1 is an average from the past 12 months and C2 is from the issue closest to the filing date.
Once you are happy with the setup for PS Form 3526, click the OK button to save your changes then OK again to exit Configure List. You can now print the completed PS Form 3526 any time and as often as you like. For anyone who may be interested, a blank copy of PS Form 3526 with instructions is available for download from the USPS at http://about.usps.com/forms/ps3526.pdf.
If you ran the ownership statement last year from Interlink, this will be an easy process:
Open your list:
Select File
Select Configure List…
Choose the Periodical Mail tab
Click Contact Information…
Select the Form 3526 tab
Verify Information is still accurate on each tab and:
Update the dates on the Misc tab
Select the Totals tab
Beginning Date for Year (the start of this year's numbers, likely October 2014)
Issue Date for Data (the most recent Close Issue you processed, e.g., 9/30/2015)
Click the Estimate Values button (this will put new numbers in both of the Estimates columns)
If the numbers are what you would expect, click the Use Estimates button; but if NOT, you can manually enter the numbers you would like to use
Click OK and then OK again to save your changes
To run your Statement of Ownership report:
Select Reports…
Select the Current Reports tab
Check the box for 3526 Statement of Ownership (should be first report, right column)
Click Print All…
If you have any questions while completing the Statement of Ownership, please contact Client Solutions at (888) 473-3103 for assistance.
---
Weekly Newspaper Average Subscription Rates
We thought you would find interesting the average subscription rates for weekly newspapers across the country. Averages are based on Interlink data of annual subscription rates for in-county, outside-county and outside state rates.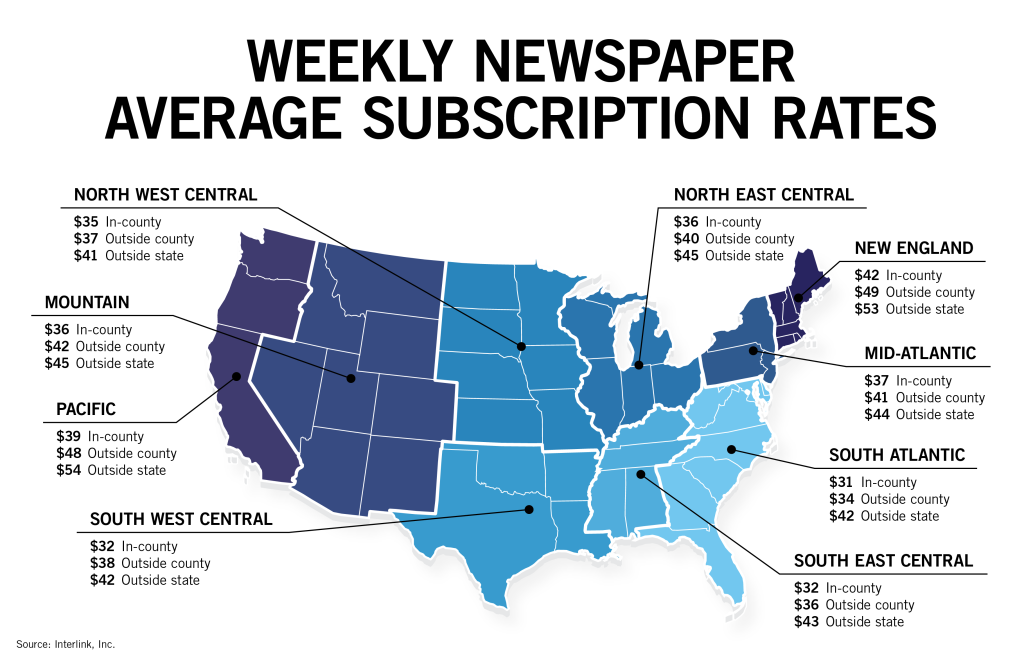 ---
Windows 10 and Interlink Circulation compatibility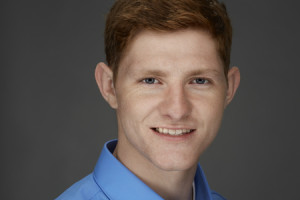 By Chris Allgood
Client Solutions Representative
For the past few decades Microsoft Windows has controlled the market for business and consumer computing. However, the tech giant's last release, Windows 8, is often viewed as confusing, puzzling and harder to use, leaving many of us skeptical about upgrading. Those who did upgrade may have done so unwillingly, compelled by Microsoft's announcement to eliminate support for Windows XP.
Windows 10 is the latest iteration of Microsoft's OS and if you decide to upgrade, you will be delighted to know that Interlink Circulation and AB4 are 100% compatible. You may notice that the program looks cleaner around the edges but this is, and always has been, controlled by the Windows theme. Windows 10 brings back a revamped start menu so if you are upgrading from Windows XP or Windows 7 and you would like to pin the Circulation and/or AB4 icons to the start menu, you have that ability. If you are upgrading from Windows 8, you will already be familiar with many of the new features, most recognizably the "tiles" which now are used in conjunction with the start menu.
Right now, Microsoft is offering a promotion that allows many Windows 7 and 8 users to upgrade for free while Windows XP and Vista users have to pay $120 to upgrade. However, upgrading is optional and if the decision is made to not upgrade, your Interlink Circulation and AB4 experience will not be affected. If you find Windows 10 to be underwhelming or riddled with too many issues, you have 30 days to revert to your previous OS.
To find more information on Windows 10, such as system requirements how to receive a free upgrade, please visit http://www.microsoft.com/en-us/windows/features. And as always, you can expect full support with Interlink Circulation and AB4, as well as all of our supported printers.
---
Client Solutions Q&A
Q:  How do I create a firm bundle?
A:  A firm bundle is created when sending multiple copies of your newspaper to the same address. Interlink has full support for both creating firm bundles and claiming the firm discounts. Firm bundles may be created either of the following two ways:
Scenario A: When running your Periodical / Standard Mail Statistics report, Interlink Circulation automatically creates firm bundles when it determines there are multiple active subscriptions being sent to the same street address.
Scenario B: You may have a single subscription entered into the system with a count of the number of copies that should be sent to the address.
Scenario A is fully automated. Scenario B may be configured as follows:
Edit the subscription record you wish to send multiple copies to.
In the bottom right of the screen, enter the number of copies you wish to send in the field labeled "Firm."
This change will take effect after the next time the Periodical / Standard Mail Statistics is printed.
---
Discontinued use of one-inch sack tags
As of January 26, 2014, the United States Postal Service discontinued the use of one-inch sack and tray tags. Additionally, all current USPS sacks and trays have changed their holders to accommodate two-inch tags, which do not properly secure one-inch tags.  While Interlink discontinued the sale of one-inch tags in August 2013, the report has remained in Circulation for those publications that did yet make the transition to two-inch sack and tray tags.
To remain complaint with the USPS regulations, Interlink will remove the ability to print one-inch periodical and standard mail tags from Circulation in January 2016.
If you need assistance in making the transition to two-inch tags, our Client Solutions team may be reached at (888)473-3103 or support@ilsw.com.
To purchase two-inch sack tags or other supplies, click here to access our online mailing supply store.
---
Take a bow…

Mustang Times receives Sequoyah Award at Oklahoma convention
By Jon Watje Managing Editor
Reprinted with permission
From The Mustang Times
The Mustang Times received the Oklahoma Press Association's highest honor at their annual convention on Friday.
The OPA presented its Better Newspaper Contest Awards during the convention, which was held June 4-6, at the Sheraton Hotel in downtown Oklahoma City. Members of the South Carolina Press Association judged the 891 entries from 96 Oklahoma newspapers. The Mustang Times was one of just ten newspapers in the state to receive the Sequoyah Award, which is determined by the amount of points accumulated in the contest's 12 events.
The Mustang Times received four first place awards for News Content, In-Depth Enterprise, Sports Coverage and Photography. It was the fourth time the newspaper has received the OPA's highest honor.
Mustang Times co-owner and co-publisher Steve Coulter said he takes pride in providing a quality newspaper to his hometown.
"The Mustang Times is one of the biggest and best weekly newspapers in the state of Oklahoma," Coulter said. "We pride ourselves in providing the most local news around. Winning the Sequoyah Award is such a great honor and I am very proud of our staff. They work very hard to make sure we are the area's number one source for news and sports. Our readers put a lot of trust in our news organization and that is something we take very seriously and it's nice to be recognized for it."
---
FPA Annual Convention conversion winner
Congratulations to Emerald Greene, publisher of the Monticello News and ECB Publishing, for winning a free Interlink Circulation conversion during the Florida Press Association/Florida Society of News Editors Annual Convention in July.
---
See you at NNA!
Stop by our trade show booth Oct. 1-2 in St. Charles, MO, during NNA's 129th annual convention and visit with Bill Garber, Brad Hill, Che Eddie and Chris Freeman. Whether you're a current Interlink customer or contemplating making a switch, we'd love to talk circulation with you!
---
Interlink Calendar
Thanksgiving
Thursday, Nov. 26 – Closed
Friday, Nov. 27 – Closed. Emergency response via callbacks
Christmas
Thursday, Dec. 24 – Closed at 1:00 PM Eastern
Friday, Dec. 25 – Closed
New Year's Day
Thursday, Dec. 31 – Closed at 1:00 PM Eastern
Friday, Jan. 1 – Closed
Postal Calendar
Thursday, Oct. 1: Publishers are required by the Post Office to file a Statement of Ownership, Management, and Circulation (PS Form 3526) annually with their Post Office of Entry by Oct. 1 to show proof of continued eligibility for mailing under a Periodical permit. Publishers also must publish the report before Oct. 31.
Postal Holidays: Upcoming postal holidays with no regular mail delivery:
Columbus Day
Monday, Oct. 12

Veterans' Day
Wednesday, Nov. 11
Thanksgiving Day
Thursday, Nov. 26
Christmas
Friday, Dec. 25
New Year's Day
Friday, Jan. 1
---
Interesting links…
If you haven't seen before some of the old footage—think early 1900's—of mail sorting and delivery, you're in for a treat with these YouTube videos from the Smithsonian National Postal Museum.
---
INTERLINK CLASSIFIEDS
NEED A NEW LABEL PRINTER? Use Interlink's Monthly Printer Service. For only $24.95 per month, Interlink provides a fully supported thermal label printer for unlimited use in your office. Current model supplied is the Citizen CL-S621. Label/ribbon packages are available from Interlink. Call 888-473-3103.
FREE TRAINING! Our Fall Special lets three lucky customers keep the standard $190 training fee to stimulate their local economy. We will provide a FREE 2-hour training session to the first three Interlink customers who respond to this ad. Call Chris Freeman or Che' Eddie at 888-473-3103.
A trained, efficient Interlink Circulation operator saves your newspaper time and money. If you have an operator who has not been through our training process, or learned by sharing information internally with the last operator, chances are not all of the program's efficiencies are being utilized.
If you don't respond in time to grab one of the free offers, we still can sign your operator up for an intense two-hour training session for only $190. Let us help get your operator up to speed on all Interlink can do to help you and your operation.
---
Share your good news
Send news about your company or staff awards and accomplishments to share in our next quarterly Interlink Community Journal. Email them to angela@ilsw.com
Share your thoughts
Have you written a column or editorial that targets issues relevant to the community-newspaper industry that you would like to share in our next quarterly Interlink Community Journal? Columns or editorials may be emailed to angela@ilsw.com.
Share your circulation promotions
Have you had a successful circulation-subscription campaign that you would like to share with fellow publishers in the community-newspaper industry? We'd be happy to share them in our next quarterly Interlink Community Journal. They may be emailed to angela@ilsw.com.