December 2015 Community Journal
Brad Hill becomes an Interlink shareholder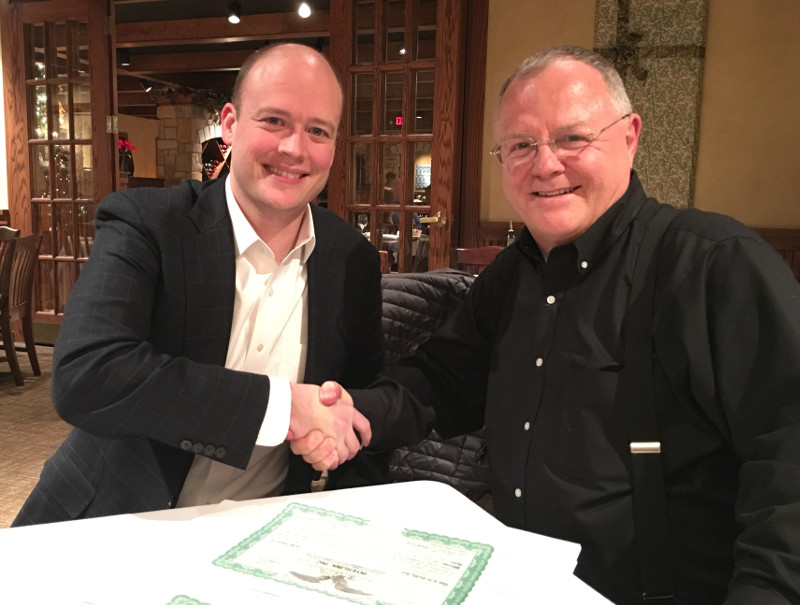 Brad Hill (left) and Bill Garber
Interlink founder and owner Bill Garber announced December 1, 2015, that Interlink President Brad Hill has become a stockholder in the company.
Interlink is a privately owned circulation management company serving the newspaper industry. Publishers of more than 1,700 newspapers across the US use Interlink services to grow newspaper subscription penetration and manage subscriber services, including delivery by mail or carrier.
Hill began working with Interlink in 2001 as a technical contractor after leaving his previous position as Network Administrator for a private school system in Tennessee. Recognizing his ability to bridge the gap between technical issues and non-technical people, Interlink offered him a permanent position handling the integration of Interlink Circulation into new customers' business systems.
He later became director of client solutions for the company before moving into the general manager role in 2011 and becoming president in 2013.
Hill was named a National Newspaper Association representative on the Mailers' Technical Advisory Committee (MTAC) in 2012, joining NNA's postal chairman Max Heath and NNA's long-time legislative representative and CEO Tonda Rush in that important postal-related group.
"Brad's vision for Interlink is inspiring, and his ongoing engagement with all of the stakeholders in our industry, especially our growing list of clients, is a key to realizing that vision. Establishing Brad as a stockholder confirms our shared vision for Interlink," Garber said.
Following the announcement, Hill stated, "My appreciation for the role of community newspapers in our society and the opportunities for extending their unique and essential relationship with their communities have become much more vivid since becoming president at Interlink. This is an exciting place to be, perhaps more now than ever as the industry increasingly leverages new technologies, and as cloud services accelerate development of scalable, available-anywhere solutions that newspapers need.
"I'm fortunate to be working with a staff such as ours, who are second-to-none in customer service," Hill said. "Bill has built a company I believe in, in an industry I believe in, and I look forward to leading Interlink and serving this industry for many more years."
---
Postage assessment notifications
By Brad Hill
President
Click. Sending. Gone!
That's what it feels like to file your postage statements electronically when you're configured for Full-Service with Interlink Circulation (give or take a minute). No more paperwork. Easier than email. That's how it looks to us. But that deceptively simple "Send to USPS" button masks a complex exchange of messages with USPS' PostalOne! system, communicating every detail about your mailing short of actual names and addresses. It's a lot to get right, and the Postal Service is now upping its efforts to ensure newspapers and other bulk mailers properly comply with all requirements of Full-Service Intelligent Mail if they want to claim its benefits.
Next year the US Postal Service plans to begin assessing fees for pieces in Full-Service mailings that fail to pass various tests for accuracy and eligibility. The penalty will be a loss of the $0.001 Full-Service discount on pieces that exceed an acceptable error rate in any of several areas being checked, such as barcode uniqueness. These assessments are currently expected to take effect in July, 2016, though that date has changed a few times, and may again.
Although postage assessments are still months away, USPS has already begun sending early warning letters and placing calls to mailers that would be affected. These typically include contact information for someone at the Postal Service who can provide additional detail on the error(s) being reported. Issues related to invalid permit numbers, post office of entry, or USPS Mailer ID and CRID may be self-serviceable, but all other items should be shared with Interlink's client solution team for assistance.
Publishers can also check their Full-Service compliance by logging into their account at USPS' Business Customer Gateway and navigating to the Mailer Scorecard. This report lists the areas being evaluated, by publication, and how many errors were found in each.
While Interlink Circulation users should expect to see error counts well below acceptable thresholds, or no errors at all, one error in particular warrants special mention. Several newspapers have reported a high number of By/For errors on their scorecard. This error can be triggered whenever a mail owner submits their own eDoc, as is the case for most community newspapers but less common for large, national mailers. An exemption exists for mailings of fewer than 5,000 copies, but it doesn't appear to have been implemented yet in PostalOne!
Today the only option to eliminate this By/For error is contacting the local Business Mail Entry Unit or USPS' Help Desk to request a special "flag" on your account. Interlink is seeking alternative solutions to remove that burden from its users long before the assessments begin and this error matters.
Whether it's the By/For error, or something else, we want to hear from anyone who finds Full-Service errors on their Mailer Scorecard or who has been contacted by USPS about them.
---
Grow your circulation with
Smart Sampling™
Your software should not only manage your circulation, but help you grow it as well. That's why our Smart Sampling tool is a built-in feature available to all Interlink Circulation users.
Subscriptions are the largest-scale opportunity for growing immediate and recurring revenue. Smart Sampling recognizes the growth potential in every market by identifying non-subscribers in your primary ZIP codes so you can directly market to them without disrupting delivery quality for current subscribers. Traditional bulk saturation sampling simply can't do that.
For more information on Smart Sampling, please call client solutions at 888-473-3103
.
---
Welcome to the Interlink community!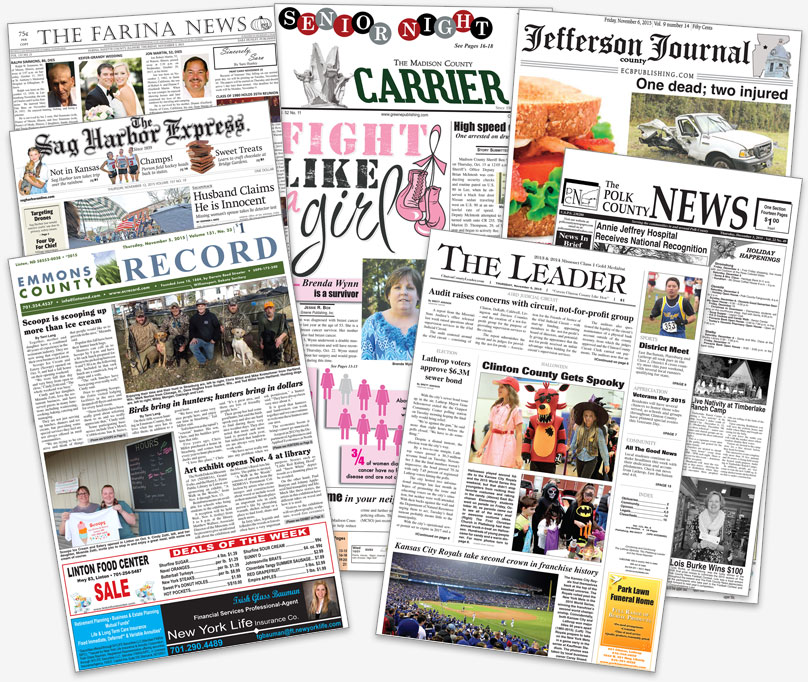 Interlink would like to welcome the newest members of the Interlink Circulation community:
Pickett County Press (TN)
Emmons County Record (ND)
Monticello News (FL)
Madison County Carrier (FL)
Boca Beacon (FL)
MHA Times (ND)
Farina News (IL)
The Sag Harbor Express (NY)
Valley News and Views (ND)
Polk County News (NE)
The Elgin Review (NE)
News Register (OR)
The Clinton County Leader (MO)
The Villager (CO)
Putnam County Courier Journal (FL)
Alamance News (NC)
---
Enjoy 20% savings on tray and sack tags when you order online
As we encourage you to make the move to Full-Service mailing, we're offering special, online pricing on our two-inch tray and sack tags—a requirement for printing Intelligent Mail barcodes.
Place your order online between now and Dec. 31 and receive 20% off the regular price.  Your cost is only $64.80 per case and includes shipping.
Whether you need mailing labels, tray and sack tags or renewal post cards, ordering online offers the flexibility of paying with a credit card or receiving an invoice. Click here to order now.
Product Description:
Printable 8 ½ x 11 laser sheets
Case of 5,000 2" perforated tags (qty. 500 sheets)
Discount will be reflected on invoice.
---
Discontinued use of one-inch sack tags
As of January 26, 2014, the United States Postal Service discontinued the use of one-inch sack and tray tags. Additionally, all current USPS sacks and trays have changed their holders to accommodate two-inch tags, which do not properly secure one-inch tags. While Interlink discontinued the sale of one-inch tags in August 2013, the report has remained in Circulation for those publications that did not yet make the transition to two-inch sack and tray tags.
To remain compliant with the USPS regulations, Interlink will remove the ability to print one-inch periodical and standard mail tags from Circulation with the first version release of January 2016.
If you need assistance in making the transition to two-inch tags, our client solutions team may be reached at 888-473-3103
or support@ilsw.com.
To purchase two-inch sack tags or other supplies, click here to access our online mailing supply store.
---
Client solutions Q&A
Q. How do I skip closing an issue?
A. There are times when it is necessary to skip closing an issue, such as when the paper is closed for a holiday. When it is necessary to skip closing an issue, the process is as follows:
Open the list in question
Click on "File" and "Configure List"; under the "General" tab, click the "Newspaper Schedule" button
Change frequency to "Other" and click "OK"
When ready, click the "Close Issue" button and enter the date you want to close for
After closing the issue, repeat the first two steps, and then change the frequency back to the original setting
---
Close issue fails due to lack of hard drive space
When Circulation closes an issue, it creates a backup of your list. If there is not enough hard drive space to accommodate the backup, an error will occur, and you will not be able to proceed with closing the issue.
To clear space on your hard drive, go to "Tools" then "Explore Temporary Files" in Circulation. Once there, click "Date Modified" to sort the files in descending order. It is recommended you keep the most recent 12 months of files if possible, just to be safe.
Once you have determined which files to remove:
Click the first file in the list of files you wish to remove
Press and hold the Shift key, scroll to the bottom of the list and click the last file in the list you wish to remove
Release the Shift key, right-click anywhere on the highlighted blue area, and left-click the Delete option
You can view how much space is now available on Drive C:/ by opening Windows Explorer and clicking "Computer."
As always, we encourage you to visit the Knowledge Base for articles on managing your reporting needs, plus how-to articles designed to give you specific instructions on features in the Circulation program. If you have questions and would like to speak with a member of our client solutions team, please call 888-473-3103
.
---
Take a bow…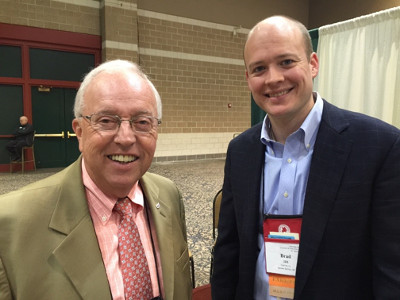 Chip Hutcheson and Brad Hill at the National Newspaper Association annual convention and trade show.
Hutcheson elected NNA president
Chip Hutcheson, publisher of The Times Leader in Princeton, Kentucky, and an Interlink client, was elected president of the National Newspaper Association during the association's 129th annual convention and trade show Oct. 3 in St. Charles, Missouri. Hutcheson succeeded John Edgecombe Jr., also an Interlink client, who is publisher of the Nebraska Signal in Geneva.
---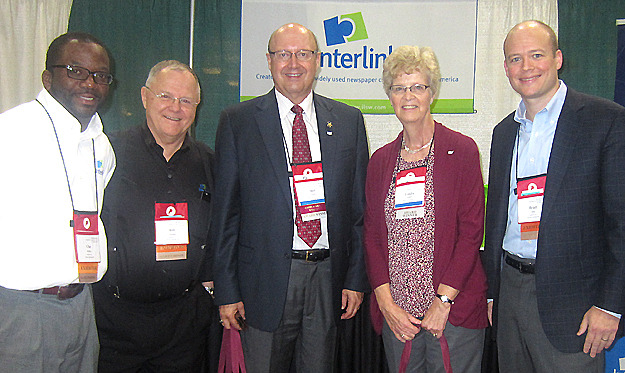 From left, Che' Eddie, Bill Garber, Bill Tubbs, Linda Tubbs and Brad Hill gather at the Interlink booth during the NNA annual convention.
NNA honors  Tubbs with Amos Award
Interlink client Bill Tubbs, publisher of North Scott Press in Eldridge, Iowa, received the National Newspaper Association's Amos Award at the annual convention this fall in St. Charles, Missouri. The Amos Award recognizes a working or retired newspaperman who has provided distinguished service and leadership to the community press.
---
Free conversion winners announced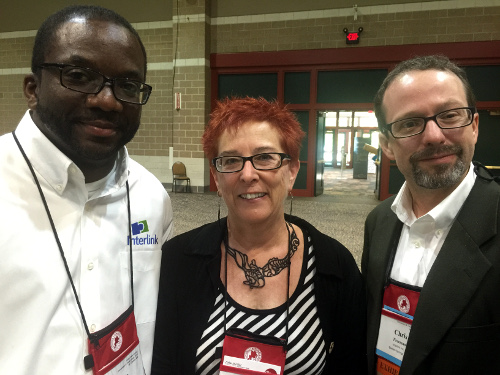 Congratulations to Terry Carlisle, general manager of The Ellsworth (Maine) American, who won the free Interlink Circulation conversion during the National Newspaper Association convention this fall. Terry is pictured with Interlink sales managers Che' Eddie (left) and Chris Freeman.
---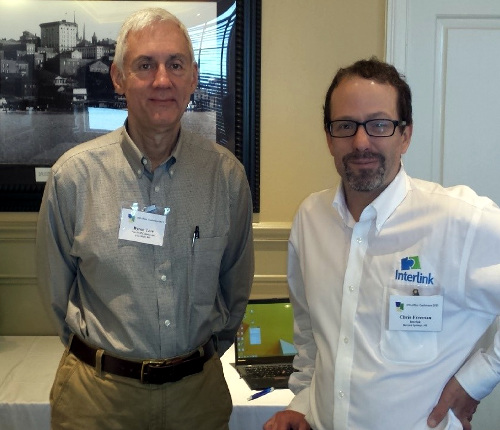 Congratulations to Byron Tate, publisher of Pine Bluff (Arkansas) Commercial, who won the free conversion at the ArkLaMiss circulation conference this fall in Vicksburg, Mississippi.
---
Hunleys welcome twins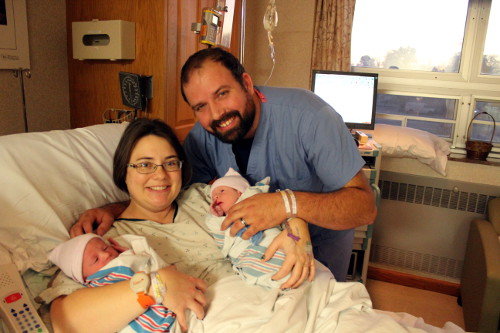 Interlink client Sara Hunley, publisher of The Farina (Illinois) News, husband Josh and son Weston (not pictured) welcome the arrival of twin boys, Wyatt and Wayde, born Nov. 4. Congratulations to the Hunley family!
---
Postal calendar
Postal holidays with no regular mail delivery:
Christmas
Friday, Dec. 25 – Closed
New Year's Day
Friday, Jan. 1 – Closed
Interlink calendar
Christmas
Thursday, Dec. 24 – Closed at 1 p.m. EST
Friday, Dec. 25 – Closed
New Year's Day
Thursday, Dec. 31 – Closed at 1 p.m. EST
Friday, Jan. 1 – Closed


by




by