March 2015 Community Journal Newsletter



by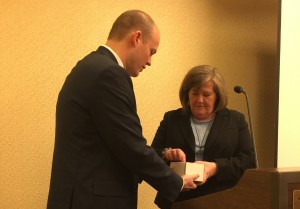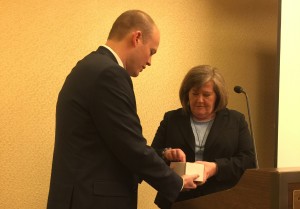 Postmaster General Megan Brennan is presented an NNA glass paperweight as a token of appreciation by Interlink President Brad Hill, who introduced her, on behalf of the National Newspaper Association following her presentation at the NNA We Believe conference. Interlink photo/Bill Garber
Postmaster General says USPS committed to improved tracking
Megan Brennan, who became the U.S. Postal Service's first female postmaster general this year, told publishers attending NNA's We Believe conference March 19 in Washington, D.C., that the key to delivery consistency is 'visibility.'
She said the Postal Service is committed to improve its tracking ability to make sure newspapers in the system 'have no place to run and no place to hide' while in the postal network.
Interlink President Brad Hill, an NNA representative on the Mailers' Technical Advisory Committee (MTAC), introduced Brennan at the opening session.
Interlink founder Bill Garber, who also was attending the conference, said that Brennan told attendees that she has asked Hill to work with her team to help recommend changes to  the Postal  system and to presort systems to make it possible to track bundles and by inference individual newspapers in real time as they move through the system.
Those who were part of that meeting after the opening session were: Hill; Steve Dearing, manager, Mailing Systems; Robert Cintron, VP, Enterprise Analytics; Keith Rathbun, publisher, The Budget (Ohio); past NNA President Merle Baranczyk of Arkansas Valley Publishing (CO); NNA postal expert Max Heath;  NNA CEO Tonda Rush; and past NNA President Reed Anfinson of Swift County Monitor-News (MN). The meeting was organized by Rush.
Full Service Intelligent Mail already lets the Postal Service track newspapers in properly barcoded containers, Garber noted.  This already keeps newspaper containers so marked from being put on the wrong truck by accident in a hurry to clear the plant at the end of a shift if there was a bit too much mail to process, he said.
Industry represents dismissed after the opening session to visit with congressional representatives on the Hill to discuss postal and other newspaper industry-related topics.
---
Improving subscriber loyalty important to print survival
By William E. (Bill) Garber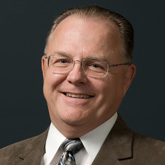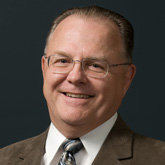 Founder
Bo Sacks, whose free daily email about magazines I subscribe to, as magazines share some of the same challenges as newspapers, was on fire earlier this month.  He was so admittedly angry that he titled his rant "BoSacks Speaks Out: Proof that Print is dead and Why it Should Be."
He had subscribed to a new Disney magazine, Frozen, for his granddaughter who loves the Frozen franchise, Bo reports.  He paid his money, and when the transaction was complete, the confirming email said to allow 7 – 9 weeks for the first issue to arrive.
"HUH!  It's is the 21st century and Amazon delivers to me damn near anything I want in two days or less, if I ask.  This past Friday, I ordered shoelaces and a keyboard and received them on Monday morning," Bo wrote.
The good news for Periodical mailers is that the Postal Service probably delivered Bo's stuff and is putting the hurt on UPS and FedEx in the process.  Package delivery is a profitable business, from what it looks like, and that bodes well for the primary delivery service for magazines and community newspapers!  But let's not stray further
So what's with 7 – 9 weeks to deliver the granddaughter's magazine?
Well, the magazine comes out six times a year, with one "special issue," I understand.  And, obviously this magazine does not send the current issue to new subscribers, but waits for them to get the next regularly printed issue.  What a missed opportunity!
So, do you mail the current issue of your weekly newspaper to new subscribers before the next issue comes out?  Helen Sosniecki, NNA's McKinney Award-winning publisher and for the past seven years Interlink's sales and marketing leader, tells me – depending on the timing – she would put the current issue, quarter folded, into a large envelope, stamp it First Class for about $1, and send it on its way to the new subscriber or gift recipient. Or, if they paid in the office, provide them the last issue.
This sort of thing always gets me thinking about how community newspapers may improve subscriber satisfaction and, with it, subscriber loyalty while at the same time letting the publisher proudly look subscribers in the eye when they talk.
Here are three ways that I would personally recommend to improve subscriber loyalty.
1.  Improve delivery consistency by turning on Full Service Intelligent Mail (FSIM) in Interlink Circulation.  There is no extra cost, and you even pay slightly lower postage!  Here is how Full Service Intelligent Mail improves delivery.
Today, the majority of eligible commercial bulk mail is FSIM compliant, and with postal employees knowing that Full-Service mail containers are being tracked, common sense would suggest that such mail likely gets priority treatment informally because of its tracking every step through the system.  So if your mail is not FSIM compliant, you will have much less consistent delivery because there is no way for headquarters to track it.
2.  Individually bag out-of-town mail to protect and showcase each issue.  I recommend clear plastic. These may work. I have no doubt it will increase the cost of mailing by 15 cents per paper, even in high volume purchases of bags. That is a bit less than $8 a year for the bags.  And how inexpensive is $8 a year to turn a $49 subscription into 52 great experiences each year?This not only makes the paper look beautiful when removing it from the bag, it looks stunning in the bag!  And, perhaps most of all, it showcases how much you value what you do every week!  So raise your distant subscription to "Just $59 a year, for 52 issues!" and pocket the difference as profit!If interest from our clients warrants, Interlink would be happy to buy in bulk and perhaps be able to reduce the cost of the bagging.  Let me know if this interests your paper.  (bill@ilsw.com or call my pocket phone at (269) 313-5337.)
3.  Mail the first issue of every new subscription First Class with a hand-signed note thanking the new subscriber for their subscription.  Be personal.  And, as Helen used to do, order up some coffee mugs or other home-town and home-town newspaper swag and invite the new subscriber to stop buy the office for their free mug.  If you can get a subscriber to visit your office, their chance of not renewing feels like it will drop to near zero.  For special promotions, instead of discounting subscription prices, Helen would offer new – and renewing – subscribers a free newspaper coffee mug which they picked up in the office.
For community newspapers, success has always been measured by making incremental advances and then applying the power of repeating issues to accrue a sense of accomplishment from the resulting loyalty and profitability, as well as a sense of security anchored in a well-running publishing enterprise.
Your Interlink friends get a vicarious thrill when you succeed.  Thanks!
---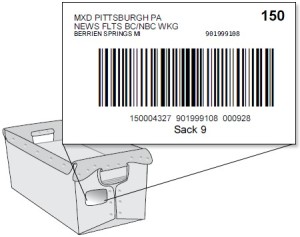 Full-Service another tool to help retain subscribers
By Brad Hill
President
Every day, somewhere at Interlink, you can be sure there was a conversation that considered, if not focused on, how to take great care of subscribers. Our billing model presents a simple yet profound truth: Each and every subscriber lost to our clients represents revenue lost to us. That's just one of many reasons why subscriber care is important, but on any given day it's enough.
This appreciation for subscriber care has led to a number of improvements in Interlink Circulation, such as Smart Sampling to draw in new subscribers, Print to Mail to help retain them, and options for website integration to make their lives and yours easier. And, they work for papers who chose to take advantage of them.
Lately, the hot topic in subscriber care has been mail delivery, specifically poor delivery times, and especially for papers being sent out of town. The stakes are high, and I have heard publishers comment that late and inconsistent delivery are now the most common reasons given by subscribers who choose not to renew.
Distant delivery has taken a hit over the last few years as USPS downsized its network, consolidating 141 mail processing facilities so far, with another 82 scheduled for 2015 to complete its plan. Other changes such as operational window changes and employee reallocations also have negatively affected delivery of many newspapers.
Publishers are not at a total loss of control when it comes to improving distant delivery, however, and in the spirit of great customer care, it's more important than ever to ensure newspapers are mailed with every possible advantage. One option that is beginning to prove itself is the use of Full-Service Intelligent Mail.
Full-Service requires printing postal barcodes on every addressed newspaper, using software-generated, barcoded sack/tray tags, and submitting postage documentation electronically. Each Full-Service barcode contains unique identifiers for a mailing and is tied to the electronic documentation that is sent to USPS.
Besides discounts granted for barcoding, which are substantial by the way, and the convenience of sending postage statements electronically, containers of newspapers mailed under Full-Service become trackable. Through USPS' Business Customer Gateway (gateway.usps.com) publishers are able to watch as their papers move from one postal facility to the next as long as they remain in their original sack or tray, and provided those are being scanned at each facility. This information equips both the Postal Service and a mailer with information that can be helpful in identifying the cause of delays. Calls about missed issues can also be responded to by identifying and contacting the last known location of the sack or tray they were in.
Another, potentially greater impact of Full-Service has little to do with technology and everything to do with human nature. Postal employees understand that Full-Service mail is being measured, and Full-Service containers are easily identified at a glance. Given the choice, it makes sense that people handling our mail would prioritize anything Full-Service before jeopardizing performance scores. This idea is supported by publishers who have reported delivery improvements after going Full-Service, and even by some USPS employees I have asked, if reluctantly.
Mailing as Full-Service is one thing publishers can and should be doing in their pursuit of great subscriber care, and it's included in Interlink Circulation at no additional cost.
I tip my hat to the hundreds of newspapers that have already made the switch to Full-Service. To the many other papers that are submitting basic eDoc: You are 90% configured for Full-Service already; let us help you go all the way. And, to the rest: We're ready when you are!
(For readers seeking more ideas on improving distant delivery of subscribers' papers, see Max Heath's column on "Getting the delivery you deserve in shrinking postal network" in the March issue of Publishers' Auxiliary.)
---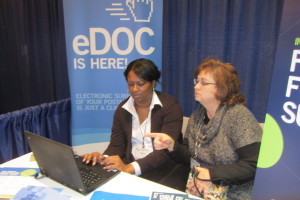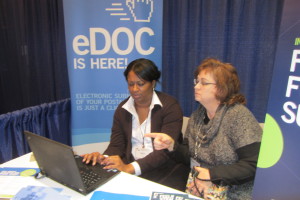 Visiting with Texas customers
Interlink Client Solutions representative Larina Hollivay, left, works with customer Lesa Major, the office administrator at the Community News in Aledo, TX, during the annual Texas Press Mid-Winter Conference in January in Galveston.   Click here for more photos from the conference.  photo/Helen Sosniecki
---
Interlink's new Knowledge Base provides access to informational and how-to articles
By Angela Kurtz
Associate Marketing Manager
We are excited to announce the addition to our website of Knowledge Base, our online resource center found under the Support & Learning menu option.
This resource center is a result of Interlink's on-going effort to provide publishers, circulation managers and office staff the tools and information needed to ensure managing your circulation responsibilities are as effortless as possible.
To that end, you'll find articles on managing your reporting needs, plus how-to articles designed to give you specific instructions on features in the Circulation program. Additionally, you'll discover articles to assist with troubleshooting and also information on subscriber and delivery management options.
While we're sure you'll find the Knowledge Base a convenient source of valuable information, we continue as always to offer one-on-one assistance by phone with our client solutions team.
---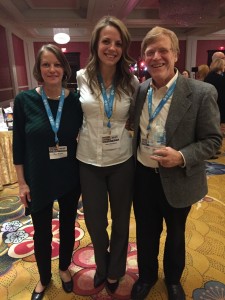 Meeting customers at MPA convention
Laura Streelman, executive assistant at Interlink, center, visits with Mary and Wes Maurer of St. Ignace News, MI, during the Michigan Press Association Convention. The convention was held last month in Grand Rapids. Streelman and President Brad Hill represented Interlink at the convention.  Interlink photo/Brad Hill
---
Special promotion for online-only supply orders
With the launch of Interlink's online store in October, many of you have discovered the ease of ordering your mailing supplies online, knowing the products are designed to work specifically with Interlink Circulation software.
Periodically, we offer special promotions for online-only supply orders. Please see our ad for our upcoming sale of thermal labels and also check out the classified section for additional savings on renewal post cards when ordered on our website.
While anyone may order from the store using a credit card, Interlink customers also have the option to select the 'send invoice' option for deferred billing.
---
On the Personal Side…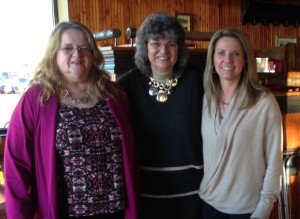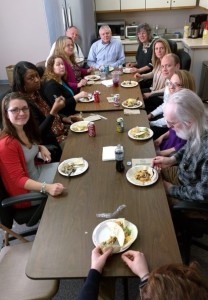 Saying goodbye to Helen Sosniecki
Right photo, Interlink staff members gathered earlier this month to say goodbye to Helen Sosniecki, (top right) Interlink Senior Sales and Marketing Manager for the past seven years. Sosniecki announced plans earlier this year to leave at the end of March. Her immediate plans include presenting postal sessions at the Kansas Press Association Convention next month and working on the International Society of Weekly Newspaper Editors' Conference that she and husband, Gary, are coordinating in June at their alma mater, the University of Missouri School of Journalism. In the photo above, Sosniecki, center, is shown with Associate Sales Manager Jessica Hughey, left, and Associate Marketing Manager Angela Kurtz
---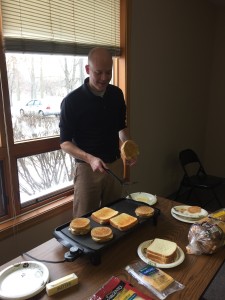 Grilled cheese coming up!
Interlink President Brad Hill cooks up grilled cheese sandwiches during a staff meeting at the Interlink office in January. Interlink photo/Laura Streelman
---
How do I print reports and labels?
Q.  How do I print reports and labels from Interlink Circulation?
A.  While putting information into your Circulation software is nice, getting information back out is even better. Interlink Circulation has all the reporting you need, putting the power of your data at your fingertips.
Finding the Right Report
Reports are broken down into categories making it easier to find the one(s) you want. To find and print a specific report:
Click the Print Reports… button on the left panel in Interlink Circulation.
Select the category for the type of report you wish to print. The All category lists all reports in all categories.
Check the box next to the report(s) you wish to print. By checking the box next to more than one report, multiple reports will print at the same time. Note: Changing categories will un-check any reports you have selected. If you wish to select multiple reports from multiple categories you must use the All category.
Click the Print button to begin printing. In some cases you may be prompted for additional information specific to the report(s) you have selected.
Archived Reports
It is possible to print certain reports from previous issues. To do this:
Click the Print Reports… button on the left panel in Interlink Circulation.
Select the Archive tab at the top of the Print Reports dialog.
Highlight the report you wish to print and click the Print button.

Printing, Re-Printing and Restarting Labels
Interlink Circulation allows you to print labels for a full mailing, a specific package, a specific label, or you can restart a previous label run from any point.
To Print a Full Mailing:
Click the Print Reports… button on the left panel in Interlink Circulation.
Select the mailing labels report you wish to print.
Click the Print button.
Adjust your settings as desired and click Continue.
To Print a Specific Package:
Click the Print Reports… button on the left panel in Interlink Circulation.
Select the mailing labels report you wish to print.
Click the Print button.
Enter the package number you wish to print in the Pkg # to Print—Leave Blank for All.
Adjust other label settings as desired and click Continue.
To Print a Specific Label:
Click the Print Reports… button on the left panel in Interlink Circulation.
Select the mailing labels report you wish to print.
Click the Print One Label… button.
Enter the ID of the subscriber you wish to print a label for and click OK.
Note: You may only print individual labels for subscribers who would already be receiving a label if you were to print the full label run. You may not use the Print One Label option as a way to print mailing labels for inactive or expired subscribers.
To Restart a Label Run:
Click the Print Reports… button on the left pane in Interlink Circulation.
Select the mailing labels report you wish to restart.
Click the Restart… button.
Enter the ID of the subscriber you wish to re-start with.
If you need additional information or assistance, please contact our Client Solutions team at 888-473-3103.
---
Take a bow…
Gargano receives Publisher Award at Iowa convention
Reprinted with permission
From The Humboldt Independent
Jim Gargano, Publisher of Humboldt Newspapers, received the prestigious 2015 Master Editor-Publisher Award at the annual Iowa Newspaper Association Convention and Trade Show on Friday night, Feb. 6, in Des Moines.
---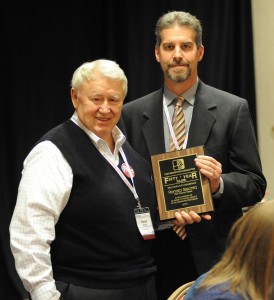 Slechta receives 50-Year Club award from INA
Ron Slechta, left, is presented award by Dave Stanley during the INA convention.  INA photo by Keith Textor, Textorservice
Publisher Ron Slechta received a 50-Year Club award from the Iowa Newspaper Association during the February convention in Des Moines.
A long-time Interlink customer, Slechta is publisher of The Kalona News, The Lone Tree Reporter and the Highland Review.
He began working as a darkroom technician and engraver in the fall of 1959 at his hometown newspapers, the Denison (IA) Bulletin and Review.
He also handled general typesetting of headlines on the Ludlow along with mailroom duties.
He worked full time while in high school and on the Daily Iowan while earning a bachelor of arts degree in Liberal Arts with major in Journalism and Mass Communications.
Slechta returned to his hometown as editor of the Bulletin and Review upon graduation. Since then he has worked as an editor and publisher of newspapers in Moorhead, MN; Tama-Toledo, IA; and The Kalona News, Highland Review and Lone Tree Reporter.
In l991, he was awarded the Iowa Newspaper Association Distinguished Service Award and is a member of the INA Heritage Club.
---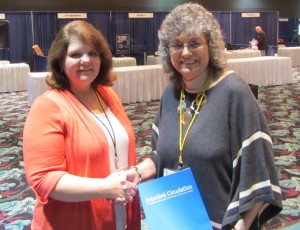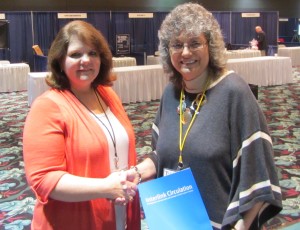 Winner in Texas
Kelli Barnes, left, of Polk County Publishing, is congratulated by Interlink Senior Sales and Marketing Manager Helen Sosniecki for winning an Interlink Circulation conversion valued at $1,295 during the Texas Press Association Mid-Winter Conference in Galveston. Click here to see more TPA Conference photos.  Interlink photo/Larina Hollivay
---
Interlink Calendar
Memorial Day
Monday, May 25 – Memorial Day. Office closed.
Postal Calendar
Memorial Day
Monday, May 25. Post offices closed. No mail delivery.
---
Interesting links…
Are robowriters replacing human journalists?
Check out this blog post about the use of robotic software in the publishing world. http://hubs.ly/y0wcgw0
Digital inspires move to print
With all the talk of abandoning print for digital, you'll want to check out this article on digital products that have introduced print to their mix. http://www.mediabiznet.com.au/news/home.do?newsId=8386
FAA announces new drone proposal
New FAA proposal would require operators to maintain visual sight of small drones among other restrictions. Read more at http://www.faa.gov/news/press_releases/news_story.cfm?newsId=18295
---
Interlink Classifieds
APRIL ONLINE SPECIAL! RENEWAL POSTCARDS. Box of 4,000 white or pink 4"x6" perforated postcards. ONLY $66.98 during April – 15 % discount is for ONLINE ORDERS ONLY. (Reg. priced at $78.80.) http://www.ilsw.com/store
NEED A NEW LABEL PRINTER? No need to spend your cash buying a new one. Just use Interlink's Monthly Printer Service. For only $24.95 per month, Interlink will provide you a fully supported thermal label printer for unlimited use in your office. Current model being supplied is the Citizen CL-S621. Label/ribbon packages are available from Interlink. Call 888-473-3103.
FREE TRAINING! Our Spring Special lets three lucky customers keep the standard $190 training fee to stimulate their local economy. We will provide a FREE 2-hour training session to the first three Interlink customers who respond to this ad. Call Jessica at 888-473-3103. A trained, efficient Interlink Circulation operator can save your newspaper time and money. If you have an operator who has not been through our training process, who learned by sharing information internally with the last operator, chances are not all of the program's efficiencies are being utilized. If you don't respond in time to grab one of the free offers, we still can sign your operator up for an intense two-hour training session for only $190. Let us help get your operator up to speed on all Interlink can do to help you and your operation.
---
Share your good news
Send news about your company or staff awards and accomplishments to share in our next quarterly Interlink Community Journal. Email them to angela@ilsw.com
Share your thoughts
Have you written a column or editorial that targets issues relevant to the community-newspaper industry that you would like to share in our next quarterly Interlink Community Journal? Columns or editorials may be emailed to angela@ilsw.com
Share your circulation promotions
Have you had a successful circulation-subscription campaign that you would like to share with fellow publishers in the community-newspaper industry? We'd be happy to share them in our next quarterly Interlink Community Journal. They may be emailed to angela@ilsw.com


by




by