Brad Hill becomes an Interlink shareholder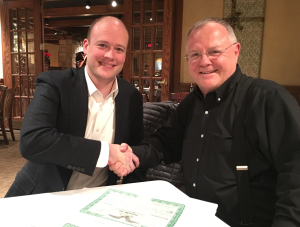 Interlink founder and owner Bill Garber announced December 1, 2015, that Interlink President Brad Hill has become a stockholder in the company.
Interlink is a privately owned circulation management company serving the newspaper industry. Publishers of more than 1,700 newspapers across the US use Interlink services to grow newspaper subscription penetration and manage subscriber services, including delivery by mail or carrier.
Hill began working with Interlink in 2001 as a technical contractor after leaving his previous position as Network Administrator for a private school system in Tennessee. Recognizing his ability to bridge the gap between technical issues and non-technical people, Interlink offered him a permanent position handling the integration of Interlink Circulation into new customers' business systems.
He later became director of client solutions for the company before moving into the general manager role in 2011 and becoming president in 2013.
Hill was named a National Newspaper Association representative on the Mailers' Technical Advisory Committee (MTAC) in 2012, joining NNA's postal chairman Max Heath and NNA's long-time legislative representative and CEO Tonda Rush in that important postal-related group.
"Brad's vision for Interlink is inspiring, and his ongoing engagement with all of the stakeholders in our industry, especially our growing list of clients, is a key to realizing that vision. Establishing Brad as a stockholder confirms our shared vision for Interlink," Garber said.
Following the announcement, Hill stated, "My appreciation for the role of community newspapers in our society and the opportunities for extending their unique and essential relationship with their communities have become much more vivid since becoming president at Interlink. This is an exciting place to be, perhaps more now than ever as the industry increasingly leverages new technologies, and as cloud services accelerate development of scalable, available-anywhere solutions that newspapers need.
"I'm fortunate to be working with a staff such as ours, who are second-to-none in customer service," Hill said. "Bill has built a company I believe in, in an industry I believe in, and I look forward to leading Interlink and serving this industry for many more years."