What's New!
September 19, 2014 -

September 2014 Interlink Community Journal
Improving editorial pages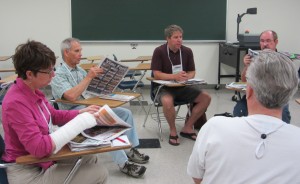 Members of the International Society of Weekly Newspaper Editors participate in an editorial critique session at the organization's summer conference held at Fort Lewis College in Durango, CO. From left, Interlink customer Sarah Kessinger, editor and publisher of the Marysville Advocate in Kansas; Merle Baranczyk, publisher of the Mountain Mail in Colorado and Immediate Past President of the National Newspaper Association; Steve Bonspiel, editor and publisher of the Eastern Door in Quebec, Canada; Jim Painter, city editor of the Temple Daily Telegram in Texas; and (back to camera) Clyde Willis, retired publisher of the Metropolis Planet in Illinois. The editorial critique session above was facilitated by retired Missouri publisher, now Interlink Senior Sales and Marketing Manager Helen Sosniecki, whose husband, Gary, is the current ISWNE president. Conference hosts were former Interlink customers Guy and Marcia Wood of New Mexico, now retired. The Sosnieckis will host the 2015 conference at the University of Missouri School of Journalism in Columbia. Click here for photos from the Colorado conference.
September 10, 2014 -

Interlink Circulation provides annual Statement of Ownership report

The USPS Statement of Ownership, Management, and Circulation, also known as PS Form 3526, is required by the Post Office annually to show proof of continued eligibility for mailing under a Periodical Permit.

Interlink Circulation includes this report and can automatically fill in most of the required information. You can find the Statement of Ownership with the other reports in the Periodical Mail Delivery report category. If you have not printed this report from Interlink Circulation before, some setup is required first to ensure all parts of the form are complete and accurate.
September 5, 2014 -

USPS plans PostalOne! update on Sunday

USPS has scheduled an update to PostalOne! from 5-9 a.m. EDT this Sunday, Sept. 7.

During that time, the Business Customer Gateway will be unavailable, and Interlink Circulation users will be unable to submit documentation electronically (eDoc).
August 5, 2014 -

Tech Support Q&A – My Circulation icon disappeared.

Q. While updating Interlink Circulation to the latest version, my icon disappeared. How do I get it back?